MODELS "350SR / 350SRC"
Gravity Roller Conveyors, Straight and Curved Sections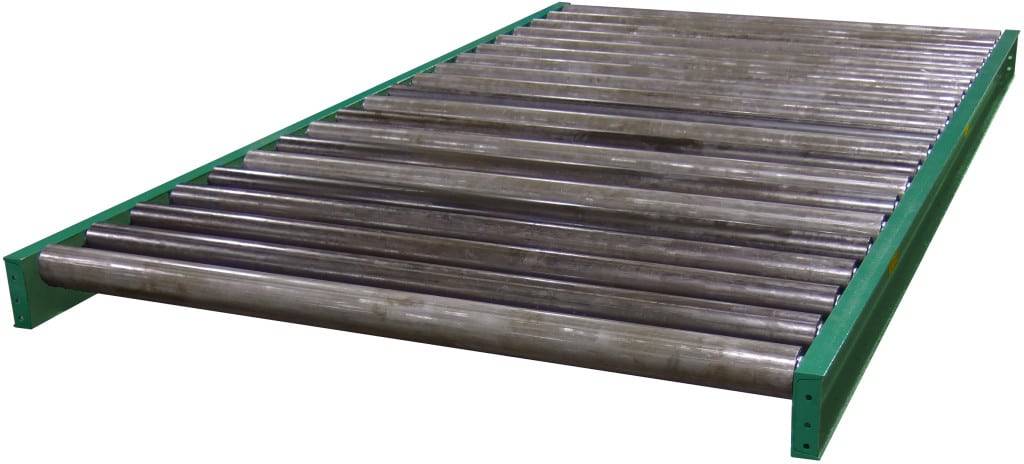 Applications / Features

:
Cartons
Tote pans
Assembly lines
Shipping departments
Online Resources

:
STANDARD SPECIFICATIONS
Frames – 6″ x 8.2 pound structural steel channel with welded cross members powder painted.
Rollers set 3⁄8″ high.
Rollers – 3-1⁄2″ diameter x .30 wall with machined ends for press fit bearings.
Bearings – Labyrinth sealed and grease packed.
Axles – 1-1⁄16″ hex shaft, pinned in curved conveyor, retainer panels in straight conveyor.
Couplings – Butt type, for bolting frames together.
Widths – 7″ between frames (B/F) and wider up to 51″ between frames.
Length – 5′ and 10′ straight sections.
Capacity – 1,200 pounds per roller, with 8,400 pounds maximum distributed live load over 10 feet;
16,700 pounds maximum distributed live load over 5 feet lengths.  All capacities are based on 4″ centers.
Curve Degree – 45° and 90° with 4'0″ inside radius only.  Tapered rollers not available.
(For Weight Specifications and Engineering Line Drawings please see catalog pages, above).
ACSI Paint Colors


(Optional colors available at extra cost)