MODEL "190MRA"
Motorized Live Roller Accumulator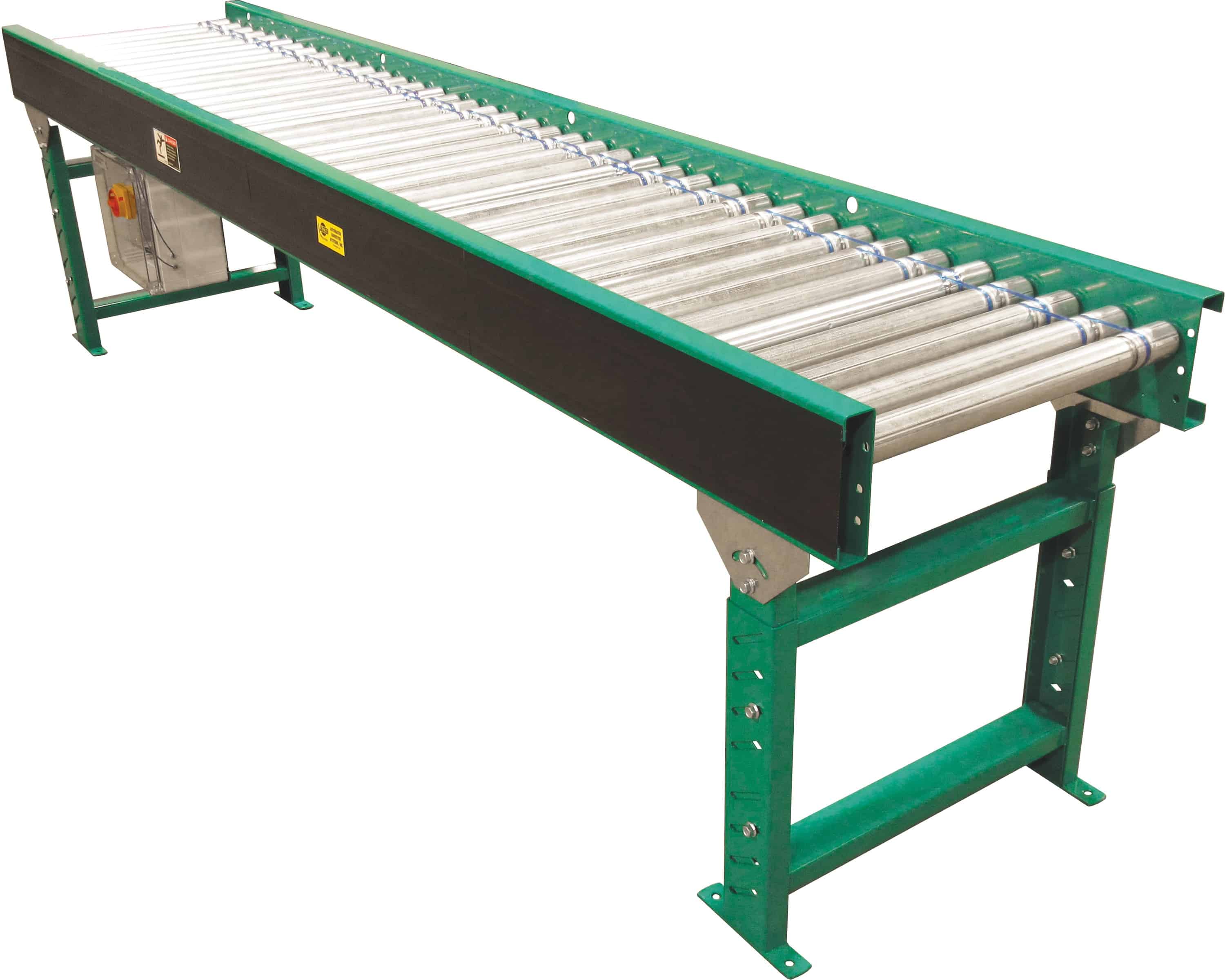 Applications / Features

:
Energy Efficient Technology
Zero Pressure Accumulation Conveyor
Photo Sensors
24 VDC-Brushless Motorized Driven Rollers (MDR)
Quiet Operation
Easy Installation and Wiring
Low Profile Design
Simple Maintenance
Online Resources

:
STANDARD SPECIFICATIONS
Bed – 15″, 21″, 27″, and 33″ wide between rails, 7″ deep x 1-1/2″ x 12 gauge powder painted, formed steel channel frame, bolted together with butt couplings and floor supports.
Rollers – 1.9″ diameter x 16 gauge galvanized steel rollers with 7/16″ hex axle and ABEC-1 precision bearings. Double grooved rollers spaced on 3″, 4″, or 6″ centers are slave driven by urethane "O" rings from motor rollers.  Rollers are set low in conveyor frame to provide guard rails both sides.
Motor Rollers – Motor rollers are 24VDC, brushless type for long life and high output.  Each motor roller has the capability to provide accumulation, dynamic braking, slug unload, reverse and run at variable speeds as standard.  Motor roller only runs only when necessary and remains in sleep mode at all other times.
Sensors – Retro-reflective photo-eye mounted to side of conveyor frame to detect product presence.  Photo eyes operate on 24VDC.
Accumulation Zones – Standard zones are 18″, 24″, 30″, or 36″ long.  Zone length must be equally divisible by roller centers.
Power Source – A "power supply" is required to convert 120VAC to 24VDC to power the motorized rollers – power supply sold separately.
Floor Supports – Adjustable 30″ to 44″ from floor to top of rollers. One support provided at end of conveyor and at each bed joint.
Conveyor Speed – Standard conveyor speed range is 60 to 200 FPM.  Other speeds available.
Bearings – Tread rollers, pre-lubricated ABEC-1 precision bearings.
Side Covers – Easy on-off side cover to protect wiring – no tools required to remove
Capacity – Motor roller can handle product weights up to 100lbs. depending on product type and conveyor speed.
(For Optional Equipment, Weight Specifications, and Engineering Line Drawings, please see catalog pages, above).
ACSI Paint Colors


(Optional colors available at extra cost)
OPTIONAL EQUIPMENT
Curves – 30, 45, 60 and 90 degree curves available. Right Angle Transfer – 90 degree right angle transfer,driven by motor rollers provide economical means for transferring product off or onto main conveyor line.
Electrical Controls – Complete electrical control system is available to control all functions of the motor rollers capabilities.