MODEL "190CLR"
Medium Duty V-Belt Roller Curve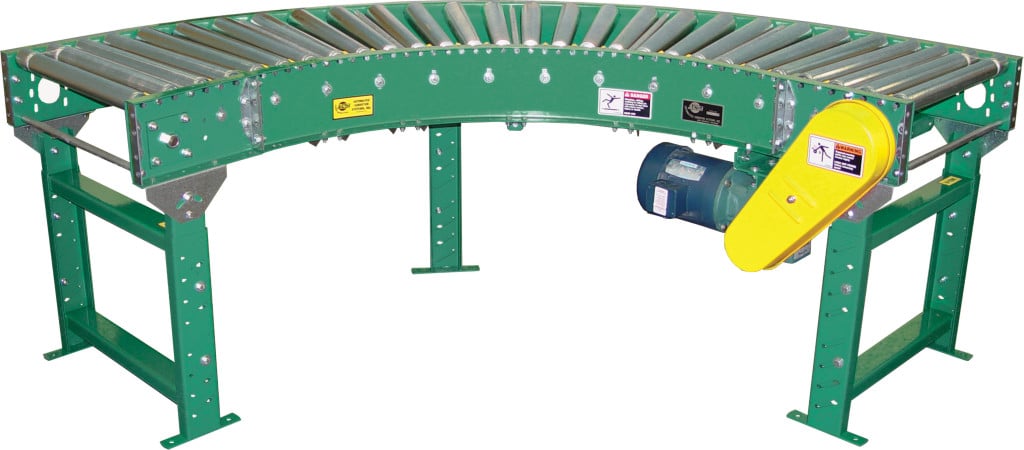 Applications / Features

:
Transports around turns with Positive Alignment of Package
Can be Slave Driven by "190CAP"
Online Resources

:
STANDARD SPECIFICATIONS
Driving Belt – "B" section V-belt.
Bed – Roller bed width between frames, 15″, 21″, 27″, 33″ and 39″.  2-1⁄2″ diameter tapered to 1-11⁄16″ diameter x 14 gauge wall plated tread rollers.  7⁄16″ hex shafts.  Steel pressure sheaves.  Mounted in 7″ x 1-1⁄2″ x 12 gauge powder painted formed steel channel frame.
Floor Supports – Adjustable 31-1⁄2″ to 45-1⁄2″ from floor to top of rollers.
One support at each end, and center leg on outer rail.
Take-Up – Screw take-up provided to ensure proper V-belt tension.  Mounted underneath conveyor.
Tangent – 12″ long, one on each end.
End Drive – Mounted below bed section.
Bearings– Sealed pre-lubricated with cast iron housings.
Speed Reducer – C-Face mounted heavy duty worm gear reducer.
Motor – 1⁄2 HP 230/460-3-60 TE motor.
Belt Speed – 60 FPM constant.
Capacity – 540 Ibs. total distributed live load.
ACSI Paint Colors


(Optional colors available at extra cost)
OPTIONAL EQUIPMENT
Guard Rails – Adjustable channel, continuous channel,steel guard rails available.
Floor Supports – Lower or higher supports are available. Minimum elevation, 17″ from floor to top of rollers. Ceiling Hangers – 1 ⁄2″ diameter threaded rods 8 feet long with locking nuts and mounting hardware.Other lengths are available.
Side Mounted Drive – End drive mounted to side of conveyor bed section. Minimum elevation 9-1⁄2″. Specify side.
Motor – Single phase, energy efficient, explosion proof, etc.Other HP available.
Belt Speed – Constant and variable belt speeds available.
Electrical Controls – Magnetic starters and push button stations; manual motor starters with overload protection, others.
Tangents – Standard tangents are 12″ long, located at each end of curve. Longer tangents available. Contact Factory.