MODEL"190RBW-S"
Medium Duty Belt Over Roller Conveyor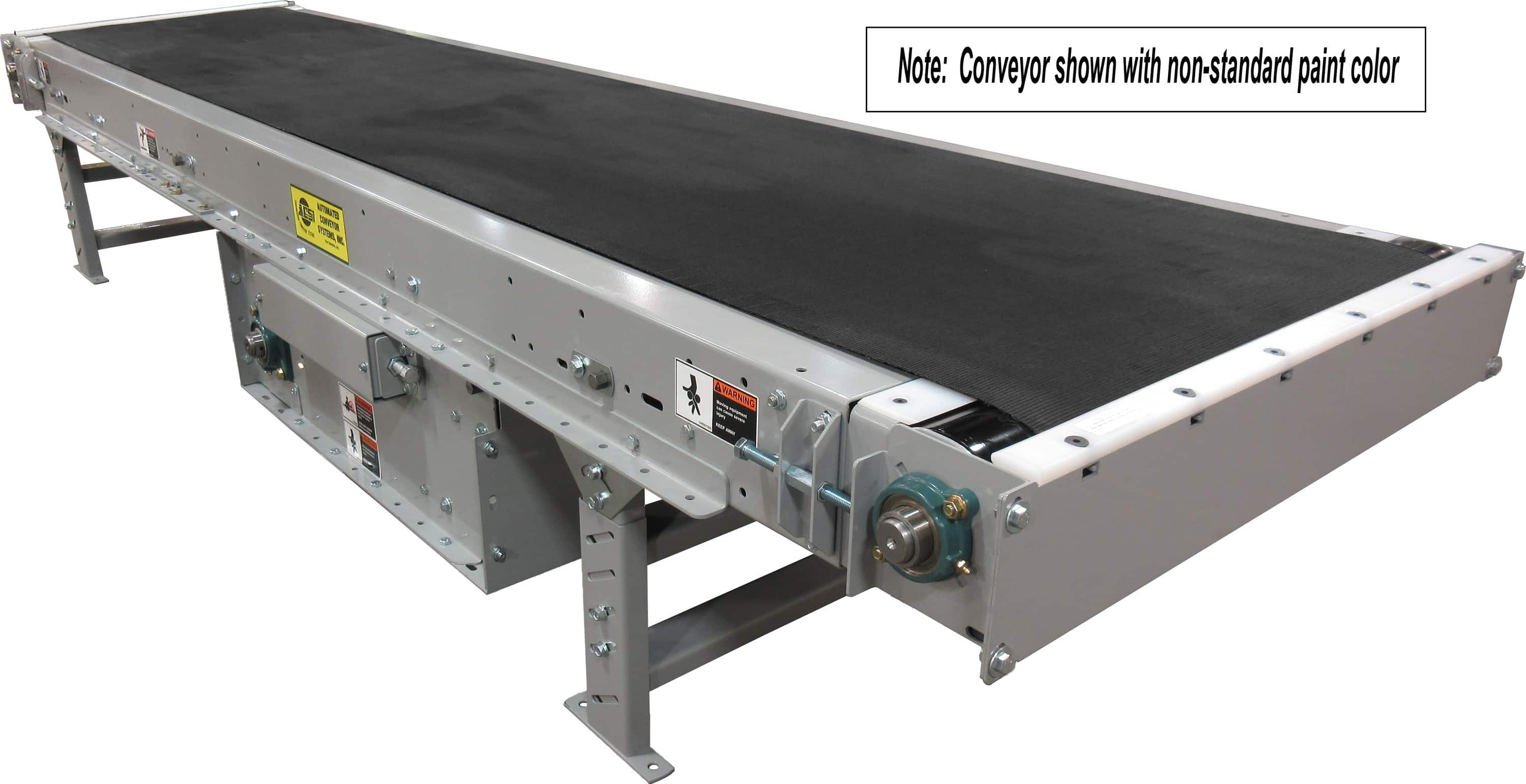 Applications / Features

:
Ideal for the Parcel Industry
Transporting
Packing
Inspecting
Online Resources

:
STANDARD SPECIFICATIONS
Driving Belt – 12", 18", 24", 36",and 42" wide, black PVC 120 belt.
Bed – 1.9" diameter x 16 ga. galvanized steel rollers with 7⁄16 " hex axle mounted on 6" centers in 6 1⁄2 "deep x 12 gauge powder painted formed channel, bolted together with splice plates and supports. Bed formed so that the belt edges rest on the slider pan and completely cover the carrying rollers beneath.
Center Drive – Mounted below conveyor bed section.
Drive Pulley – 8" diameter and fully lagged, 1 7⁄16" diameter shaft
Tail Pulley – 6" diameter crowned.
Snub Roller – 2 1⁄2" diameter at drive pulley and terminal pulleys.
Return Idlers – 1.9" diameter, adjustable, on 10'0" centers.
Take-up – Located in center drive, provides 20" of belt take-up.
Pulley Bearings – Sealed, pre-lubricated with heavy duty cast iron housings.
Floor Supports – 31″ to 45″ adjustable from floor to top of belt. One support provided for each end of conveyor and at each bed joint. Other elevations are available.
Speed Reducer – C-Face mounted heavy duty worm gear reducer
Motor– 1/2"HP 230/460-3-60 TE motor.
Belt Speed– 60 FPM constant.
Capacity– Maximum load per linear foot of conveyor – 150 pounds.

Optional ACSI Colors


(Optional colors available at extra cost)
OPTIONAL EQUIPMENT

End Drive – Underslung with chain guard on right or left hand side at discharge end.
Guard Rails – Adjustable channel, continuous channel, or solid steel guard rails available.
Side Mounted Drive – End drive mounted to side of conveyor section. Specify side. Minimum elevation – 10″.
Belt Speed – Constant and variable belt speeds available.