MODEL "190RBW"
Medium Duty Roller Bed Wire Mesh Belt Conveyor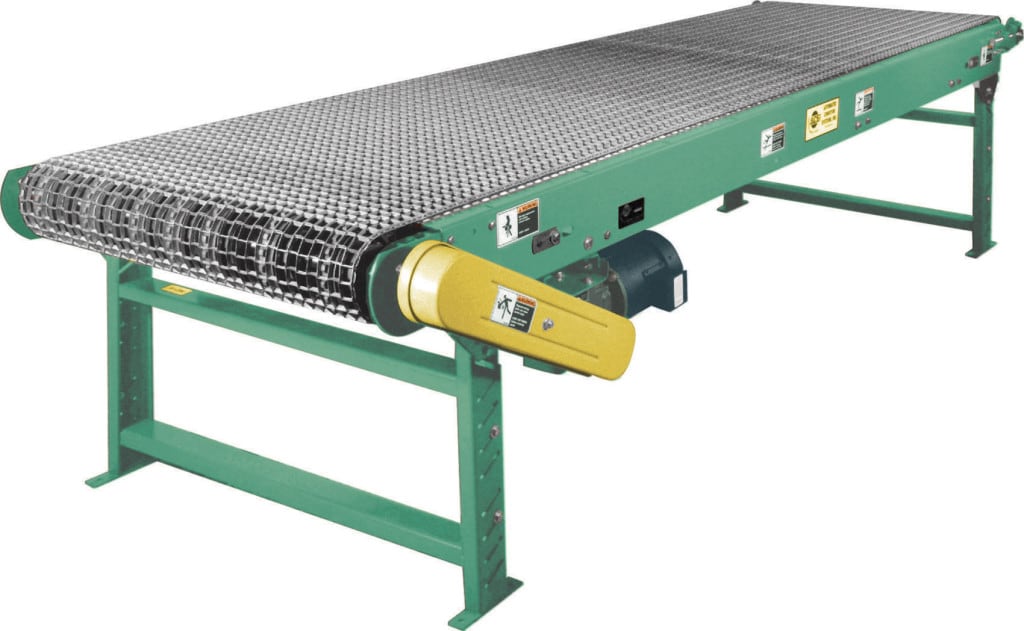 Applications / Features
Drying Operations
Wet or Oily Products
Hot or Cold Parts from Ovens or Freezers
One Direction Operation
Online Resources

:
STANDARD SPECIFICATIONS
Belt – 12″, 18″, 24″ and 36″ wide, 1/2″x1″ flat wire belt.
Bed – 1.9″ diameter rollers mounted on 6″ centers in 6-1/2″ deep x 12 gauge powder painted formed channel, bolted together with splice plates and supports.
Drive Sprockets – 6″ pitch diameter cast iron sprockets machined for 1-3/16″ diameter shaft.
Tail Pulley – 4″ diameter with 4″ pitch diameter cast iron sprockets on each end of pulley, 1-3/16″ diameter shaft.
Snub Roller – Adjustable 2″ diameter roller located directly behind drive sprockets and tail sprockets.
Return Idlers – 1.9″ diameter, adjustable, on 10'0″ centers.
Take-Up – 6″ long screws located at tail pulley to tighten belt.
Bearings – Sealed and pre-lubricated with heavy duty housing.
Floor Supports – Adjustable 31″ to 45″ from floor to top of belt. One support supplied at each end of conveyor and at each bed joint.
Speed Reducer – C-Face mounted heavy duty worm gear reducer.
Motor – 1/2 HP 230/460-3-60 TE motor.
Belt Speed – 60 FPM constant.
Capacity – Maximum load per linear foot of conveyor – 75 pounds. Not to exceed Load Capacity Chart.
(For Optional Equipment, Weight Specifications, and Engineering Line Drawings, please see catalog pages, above).
ACSI Paint Colors


(Optional colors available at extra cost)
OPTIONAL EQUIPMENT
Belt – 1/2″ x 1/2″ flat wire, galvanized, stainless steel. Others.
Guard Rails – Adjustable channel, continuous channel, or solid steel guard rails available.
Floor Supports – Lower or higher supports available.
Ceiling Hangers – 1⁄2″ diameter threaded rods 8 feet long with locking nuts and mounting hardware. Other lengths are available.
Side Mounted Drive – End drive mounted to side of conveyor. Specify side. Minimum elevation – 10″.
Overhead Drive – End drive mounted above conveyor. Specify clearance required.
Motor – Single phase, energy efficient, explosion proof, etc. Other HP available.
Belt Speed – Constant and variable belt speeds available.
Electrical Controls – Magnetic starters and push button stations; manual motor starters with overload protection, others.