MODEL "22ACDE"
Air Operated Photo Eye Controlled Accumulating Conveyor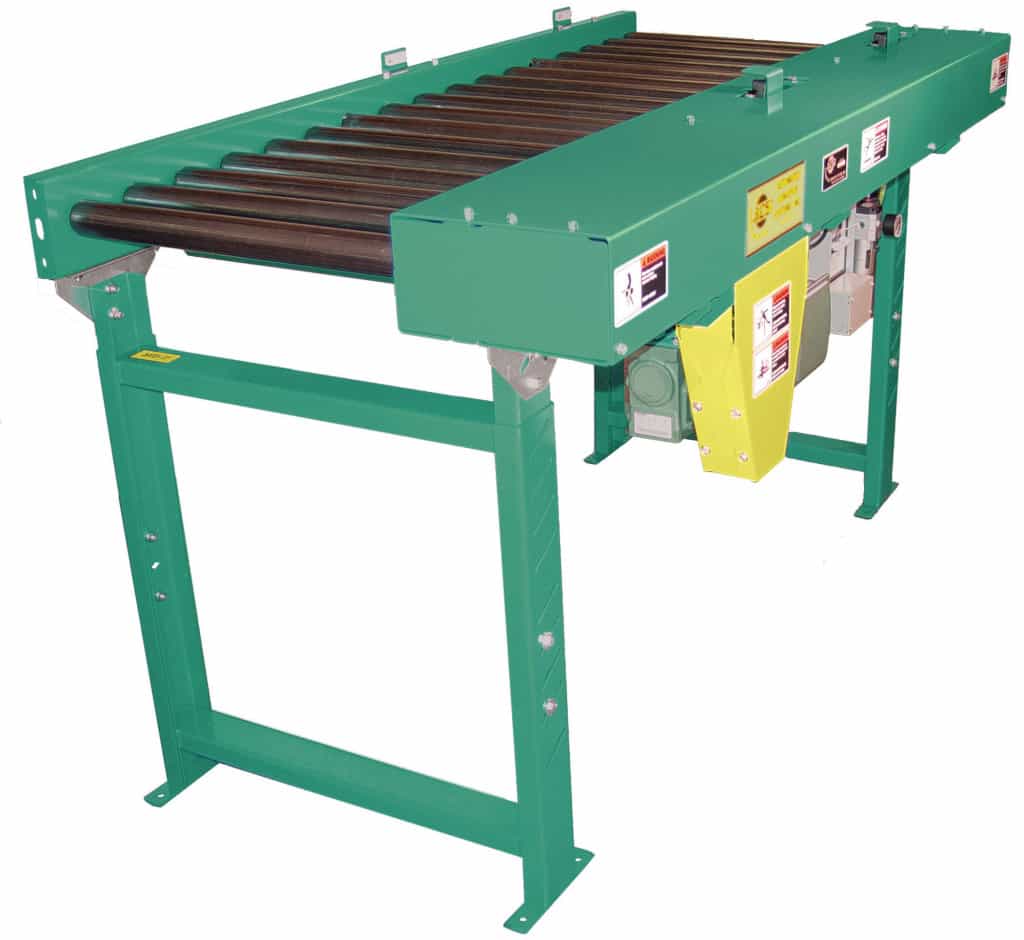 Applications / Features

:
Medium Weight Pallets
Drum Filling Operations
Large Carton Accumulation
Handles Product on Slip Sheets
Photo Eye Controlled
Online Resources

:
STANDARD SPECIFICATIONS
Frame – Conveying surface width 14″, 16″, 18″, 24″, 28″, and 34″.  5-1/2″ x 1-1/2″ x 10 gauge powder painted formed steel channel both sides.  Sections are bolted together with butt couplings and floor supports.
Tread Rollers – 2″ diameter x 12 gauge steel rollers with #40 sprockets welded to roller tube, 7/16″ hex shaft.  Rollers spaced on 4″, or 6″ centers, set low 1-1/2″.  Roller to roller driven.
Drive – Located near center of conveyor length, under conveyor frame.
Drive Chain – RC #40 for roller to roller connections, RC #50 chain drive for each zone.  Chains are totally enclosed by metal guards.
Floor Supports – 28″ to 42″ adjustable from floor to top of rollers.  One support supplied at each end of conveyor and at each bed joint.
Accumulation Zones – Standard zone lengths are 24″, 30″, and 36″ with a maximum of 30 zones per drive.  Conveyor frame lengths change with zone lengths and zone length must be divisible by roller centers.  Each zone is driven by an air clutch and controlled by a photo eye sensor.
Sensing Device – NEMA 1 photo electric sensor in each zone detects product presence and activates accumulation feature in trailing zone if upstream zone is occupied.
Power Supply – 120VAC power supply controls accumulation feature with 24VDC output.  Power supply will control 50 accumulation zones.
Air Requirements – 30 PSI minimum.
Filter / Regulator – Mounted to conveyor side frame.  50 PSI recommended operating pressure with free air consumption of .001 cu. ft. per sensor operation.
Motor – 1/2 HP 230/460-3-60 TE motor.
Conveyor Speed – 30 FPM constant.
Capacity – 250 pounds per foot; maximum unit load 1000 lbs.  Not to exceed Load Capacity Chart (see catalog page).
(For Optional Equipment, Weight Specifications, and Engineering Line Drawings, please see catalog pages, above).
ACSI Paint Colors


(Optional colors available at extra cost)
OPTIONAL EQUIPMENT
Electrical Controls – Magnetic starters and push button stations; manual motor starters, others.
Pneumatic Stop – Pneumatic roller/blade stop can be located most anywhere in conveyor length to stop loads in work zones.