MODEL "251CRR-3"
Heavy Duty Chain Driven Live Roller 3″ Centers Conveyor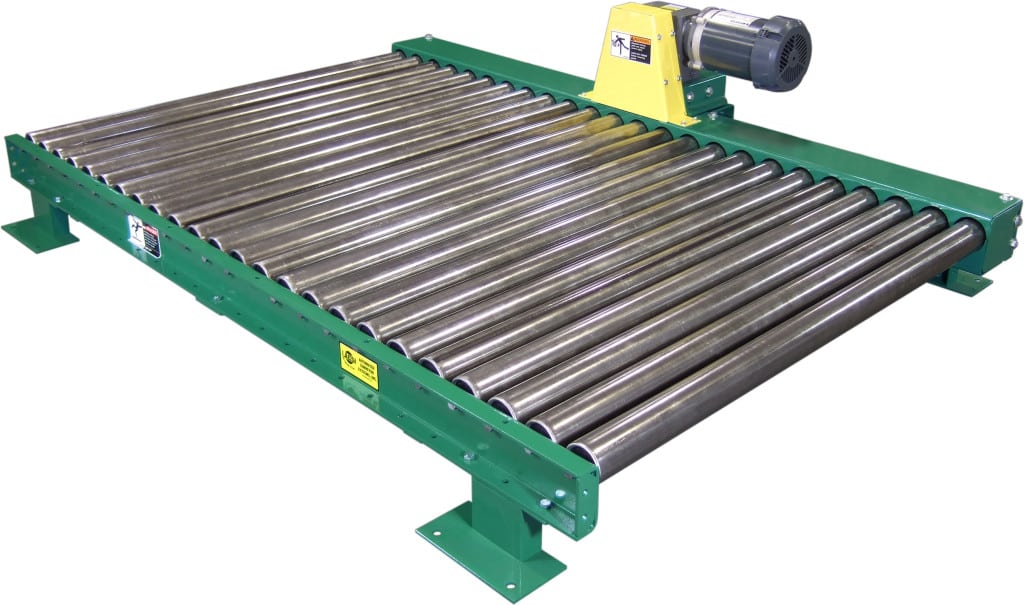 Applications / Features

:
Ideal for Slip Sheet Applications
3″ Roller Centers
Handles Pallets the "Hard Way"
4,000 lbs. Capacity
Online Resources

:
STANDARD SPECIFICATIONS
Bed – Conveying surface width 16″, 20″, 24″, 28″, 30″, 34″, 36″, 40″, 44″, 48″, 52″, and 56″.  Heavy Duty 4″ and 4-3/4″ deep x 4 gauge powder painted formed steel channel frame with heavy duty cross braces.  Frames are bolted together with butt couplings and floor supports.
Rollers – 2-1/2″ diameter x 11 gauge steel rollers, grease packed and labyrinth sealed bearing, 11/16″ hex shaft.  Rollers are spaced on 3″ centers and set 1/4″ high on side rail opposite chain drive.
Drive Chain – RC40 chain is used for roller connections.
Floor Supports – Heavy duty supports are adjustable 24-1/2″ to 34″ from floor to top of roller.  One support at every bed joint and end of conveyor.  Formed angle knee braces are supplied for each support.
Center Drive – Mounted underneath conveyor near center of conveyor length.  Minimum elevation with standard drive mounting is 18″ to top of roller.
Bearings – Sealed and prelubricated ball bearings.
Chain Guard – Chain guard is on one side only, extends 7/8″ above top of rollers.  Lower chain guard is mounted on bottom of conveyor frame.  Upper chain guard is mounted to top of conveyor frame to totally enclose drive chains.
Speed Reducer – Heavy duty, sealed worm gear reducer.
Motor – 3/4 HP 230/460-3-60 TE motor.
Speed – 30 FPM constant.
Maximum Conveyor Length – Maximum conveyor length with one drive not to exceed 40 feet.
Capacity – 4000 lbs. maximum distributed live load on any conveyor length.
(For Optional Equipment, Weight Specifications, and Engineering Line Drawings, please see catalog pages, above).
ACSI Paint Colors


(Optional colors available at extra cost)
OPTIONAL EQUIPMENT
Floor Supports – Lower or higher floor supports are available.
Side Mounted Drive – Motor-reducer unit can be mounted to side of conveyor frame. Drive is higher than conveyor frame. Minimum elevation to top of roller is 7″.
Conveyor Speed – Other constant and variable speeds available. Contact factory.
Motor – Single phase, energy efficient, explosion proof, etc. Other HP available.
Electrical Controls – Magnetic starters and push button stations;
manual motor starters with overload protection, others.
Rollers Set Low – Rollers mounted in 4-3⁄4″ deep channel both
sides. Rollers set low 5⁄8″.