MODEL "251CRRCT"
Heavy Duty Chain Driven Tapered Roller Curve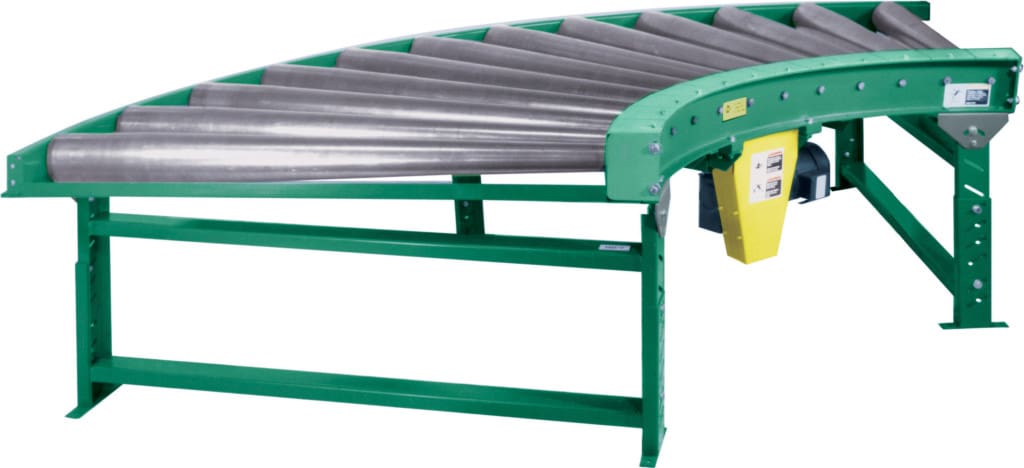 Applications / Features

:
Pallets
Drums
Positive Drive
Oily Conditions
Online Resources

:
STANDARD SPECIFICATIONS
Bed – Conveying surface width 28″, 34″, 40″, 46″, 52″, 58″ and 64″. Tapered tread rollers mounted in 4″ and 6″ x 4 gauge powder painted formed steel channel frame. Sections are bolted together with butt couplings and floor supports.
Drive Chain – No. 50 roller chain.
Floor Supports – Heavy duty supports are adjustable 30-1⁄4″ to 40″ from floor to top of roller. One support at each end of conveyor and one center leg with knee brace.
Center Drive – Mounted underneath conveyor.
Bearings – Sealed, prelubricated ball bearings.
Chain Guard – Lower chain guard is mounted on bottom of roller frame, and upper chain guard is mounted above roller frame to totally enclose drive chain.
Speed Reducer – Heavy duty worm gear C-Face mounted.
Motor – 3⁄4 HP 230/460/3-60 TE motor.
Capacity – 4000 Ibs. distributed live load.
Speed – 30 FPM.
(For Optional Equipment, Weight Specifications, and Engineering Line Drawings, please see catalog pages, above).
ACSI Paint Colors


(Optional colors available at extra cost)
OPTIONAL EQUIPMENT
Floor Supports – Lower or higher supports are available. Minimum elevation, 18″ from floor to top of rollers.
Motor – Single phase, energy efficient, explosion proof, etc. Other HP available.
Electrical Controls – Magnetic starters and push button stations; manual motor starters with overload protection, others.
Roller Speed – Constant and variable speeds available.
Rollers Set Low – 5"deep x 4 gauge non-driven side rail to provide 3⁄4″ high guard rail.