MODEL"MPB"
Medium Duty Modular Plastic Belt Conveyor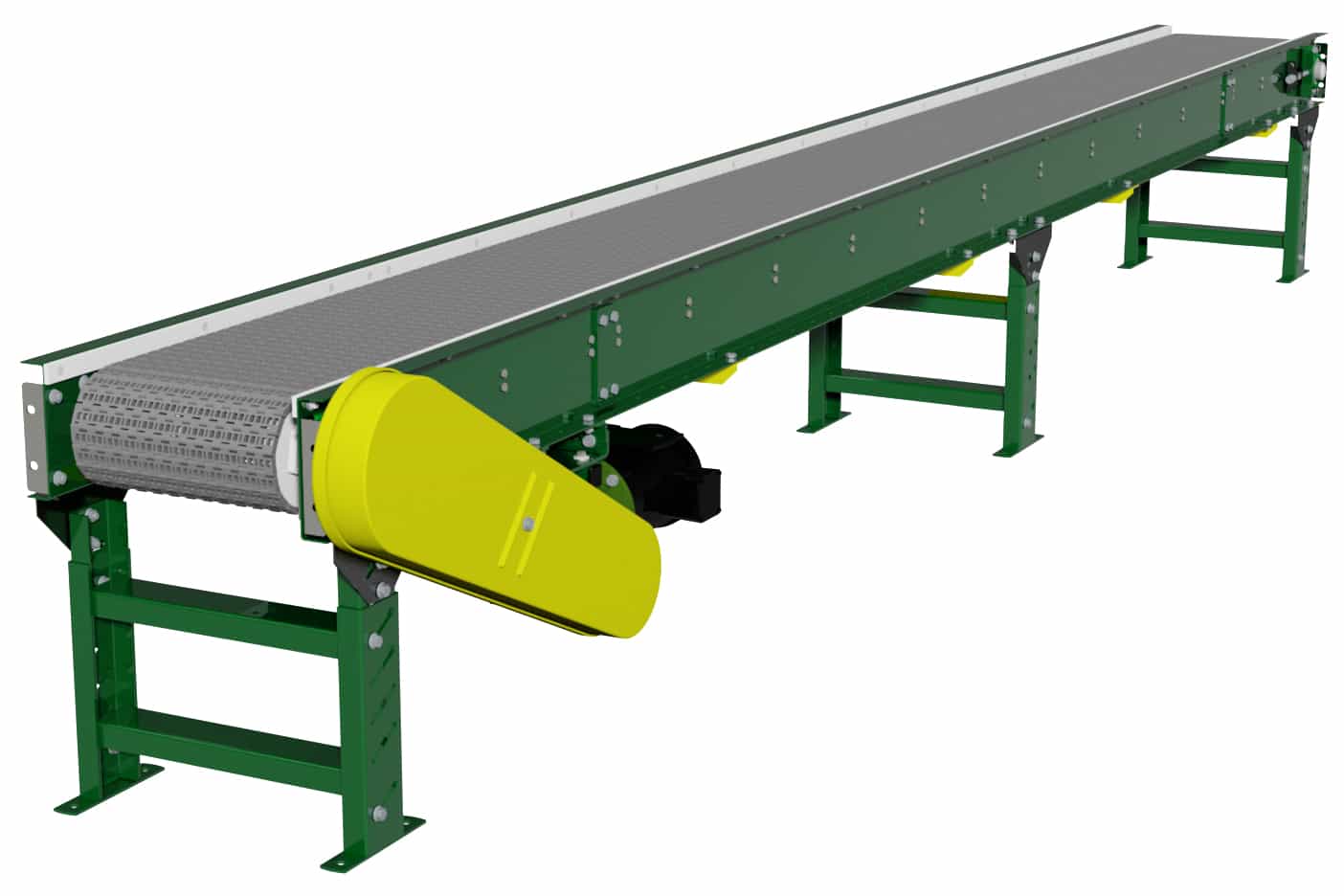 Applications / Features

:
Transportation
Diverting
Merging
Low Pressure Accumulation
Online Resources

:
STANDARD SPECIFICATIONS
Belt Width– 12″, 18″, 24″, 30", and 48″ wide, 1″ grey polypropylene thermoplastic modular belt.
Bed –  7″ deep x 12 gauge powder painted formed steel channel frames set low with guard. Bolt-in formed steel pan with UHMW carrying surface.
End Drive –  End drive standard.
X-Bracing -Frame squaring device supplied on conveyors 40 feet and longer for every other bed section. X-bracing insures good product and belt tracking.
Sprockets –  5.8″ pitch diameter x 1.5″ square bore, molded polyamide thermoplastic.
Return Idlers – UHMW rollers located along overall length for proper belt tension.
Take-up – Belt take-up is done with belt (catenary) sagging.
Bearings –  Sealed and prelubricated with cast iron housings.
Floor Supports – Adjustable 30-3 ⁄4″ to 443 ⁄4″ from floor to top of belt. One support supplied at each end of conveyor and at each bed joint.
Speed Reducer – C-Face mounted heavy duty worm gear reducer
Motor – 3/4 HP 230/460-3-60 TE motor.
Belt Speed – 60 FPM constant.
Capacity – 200 pounds per foot maximum. Not to exceed Load Capacity Chart.

Optional ACSI Colors


(Optional colors available at extra cost)
OPTIONAL EQUIPMENT
Belt – Various styles (colors & materials) available – contact factory.
Sprockets – Other pitch diameters available.
Guard Rails – Adjustable channel, continuous channel, or solid steel guard rails available.
Floor Supports – Lower or higher than standard. Castered supports with 4″ diameter or 6″ diameter rigid or swivel casters.
Ceiling Hangers – 1 ⁄2″ diameter threaded rods 8 feet long with locking nuts and mounting hardware. Other lengths are available.
Motor – Single phase, energy efficient, explosion proof, etc. Other HP available.
Belt Speed – Constant and variable belt speeds available.
Electrical Controls – Magnetic starters, push button stations; manual motor starters with overload protection, others.