MODEL "190RBI"
Inclined Roller Bed Conveyor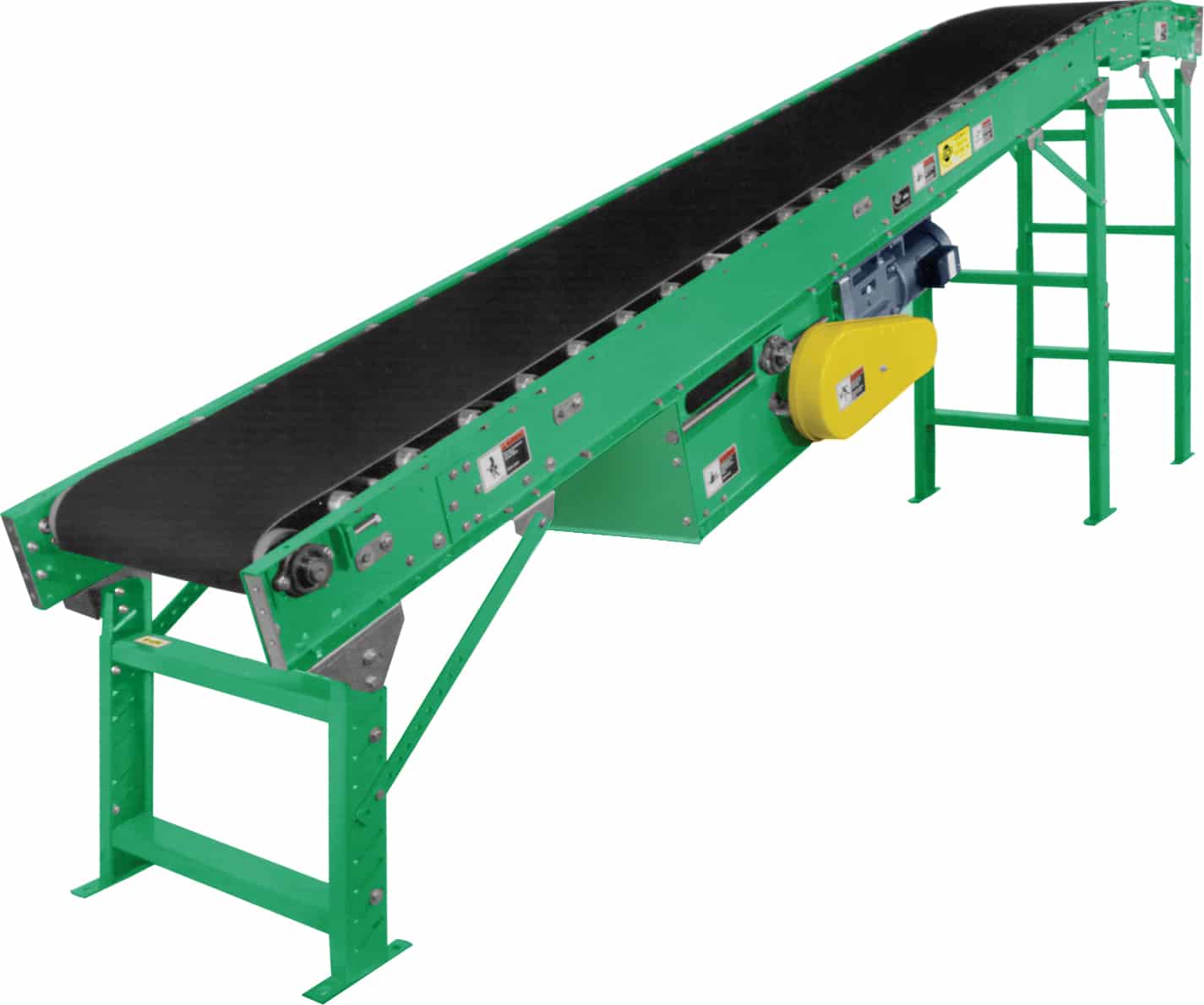 Applications / Features

:
Transporting Between Floors
Booster Conveyor for Gravity Flow Systems
Heavier Loads Can be Conveyed Because of Less Friction Build-up
Online Resources

:
STANDARD SPECIFICATIONS
Belt – 12″, 16″, 18″, 20″, 24″ and 30″ wide rough-top belt.
Bed – Roller bed with 1.9″ diameter x 16 gauge galvanized rollers spaced on 6″ centers. Rollers mounted in 7″ x 1-1/2″ x 12 gauge powder painted formed steel channel frames.  Frames bolted together with butt couplings.
Under-Trussed Bed – Extra reinforcement to prevent sag in longer bed sections in addition to reinforcing angles, 20 feet and longer.
X-Bracing – Supplied on conveyors 40 feet and longer.  Used to square bed sections to insure proper product and belt tracking.
Double Nose-Over – Adjustable from 0° to 30°.
Center Drive – Mounted below conveyor bed section. Can be placed most anywhere in conveyor length.
Tail Pulley – 4″ diameter, crowned with 1-3/16″ diameter shaft through 30″ wide belt.  6″ diameter tail pulley with 1-7/16″ diameter shaft turned down on ends for wider than 30″ belt.
Drive Pulley – 8″ diameter and fully lagged, 1-7/16″ diameter shaft.
Snub Roller – 2-1/2″ diameter at drive pulley, 2″ diameter at terminal pulleys.
Return Roller – 1.9″ diameter.
Take-Up – Located in center drive, provides 24″ of belt take-up.
Gravity Brackets – Adjustable rod with 1-3/8″ diameter pop-out transfer roller to attach wheel or 1-3/8″ diameter roller conveyor.
Bearings – Sealed prelubricated with cast iron housings.
Floor Supports – Adjustable 31-1/2″ to 45-1/2″ from floor to top of belt.  One support supplied at each end of conveyor and at noseover, with knee braces.
Speed Reducer – C-Face mounted heavy duty worm gear reducer.
Motor – 3/4 HP 230/460-3-60 TE motor.
Belt Speed – 60 FPM constant.
Capacity – See Load Capacity Chart.
(For Optional Equipment, Weight Specifications, and Engineering Line Drawings, please see catalog pages, above).

Optional ACSI Colors


(Optional colors available at extra cost)
OPTIONAL EQUIPMENT
Belt – Neoprene ruff-top, PVC rough-top, other types and styles.
Guard Rails – Adjustable channel, continuous channel, or solid steel guard rails available.
Ceiling Hangers – 1⁄2″ diameter threaded rods 8 feet long with locking nuts and mounting hardware. Other lengths are available.
Floor Supports – Lower or higher than standard.
Lower Powered Feeder Section – Separate belt section with (2) supports, adjustable from 28-1⁄2″ to 42-1⁄2″. Driven by roller chain from tail pulley of inclined section. Integral feeders available.
Motor – Single phase, energy efficient, explosion proof, etc. Other HP are available.
Belt Speed – Constant and variable belt speeds available.
Electrical Controls – Magnetic starters, push button stations; manual motor starters with overload protection, others.
Single Noseover – Available.