MODEL "251CRR-Powered Turntable"
251CRR-Powered Turntable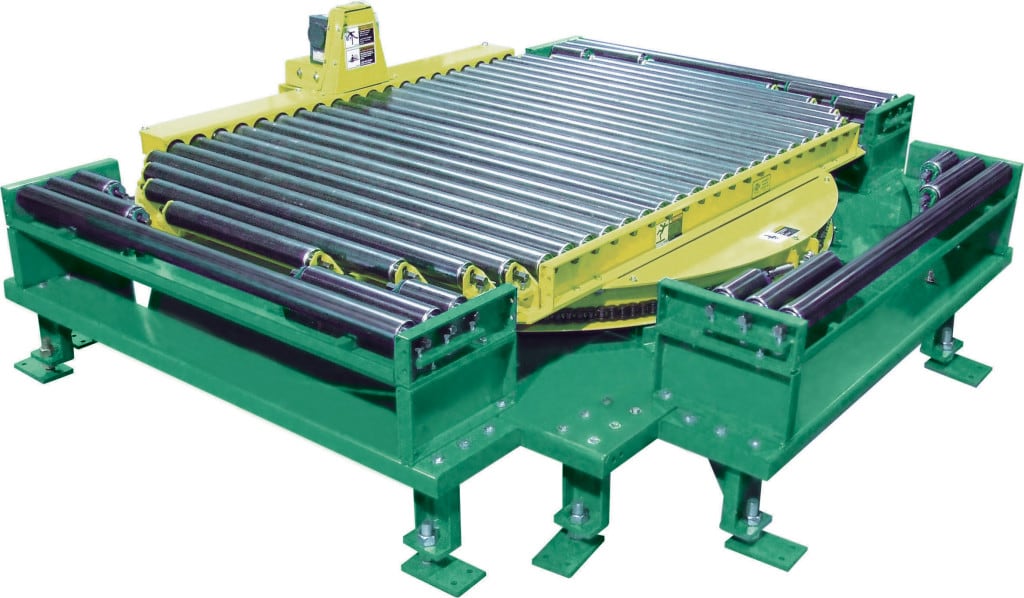 Online Resources

:
STANDARD SPECIFICATIONS
Motor – 3⁄4 HP 230/460-3-60 TE motor.
Capacity – Model 251CRR chain driven live roller mounted to the top of the table, designed for handling up to 4,000 lb. pallets
Normal Operation – 90 degree or 180 degree indexing.
Turntable – Motor driven.
Floor Supports – Heavy duty supports, with minimum elevation of 20″ to top of roller.
ACSI Paint Colors


(Optional colors available at extra cost)
OPTIONAL EQUIPMENT
The Powered Turntable is used when two parallel conveyor lines must be close together with a 180° turn at one (or both) ends. The turning radius is held to a minimum, less than would be available with gravity or powered curve sections. Turntable Plow and Guard Rails insure product safety while negotiating 180° turn. Unit is reversible and all bearings are sealed. Table top mean speed is 90 FPM.
Motor– 1 ⁄2 HP 230/460V-3-60 TE motor.
Capacity – 500 lbs.total distributed load – maximum unit load – 150 lbs.
Adjustment– 28″ to 40″ adjustable top of table.