MODEL "Guard Rails"
Guard Rails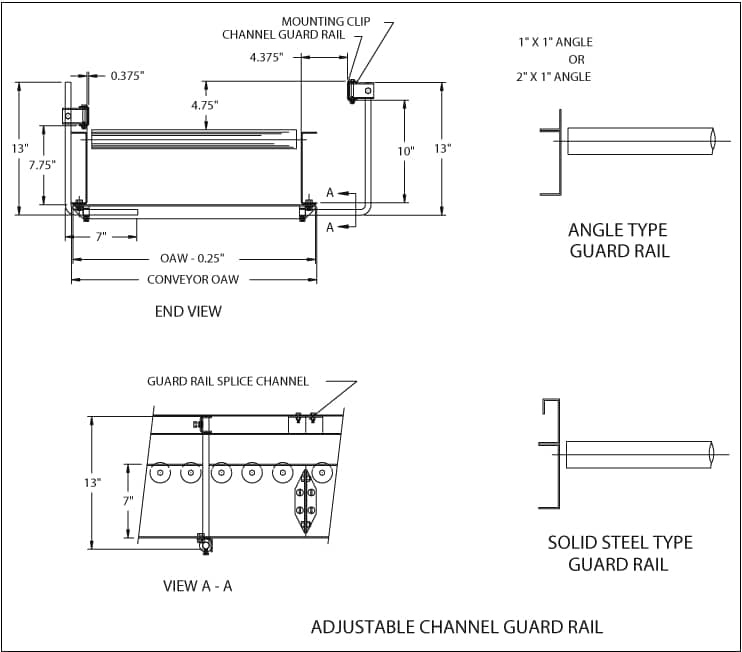 Online Resources

:
STANDARD SPECIFICATIONS
SOLID STEEL GUARDS
Mounts to side of conveyor bed sections.  Guard heights above belt: 2.5″, 3.5″, 4.5″, 6.125″, 9.125″, 10″,
and 12.5″, 12 gauge galvanized or powder painted steel.
ANGLE GUARDS
Sizes – 1″x1″or 2″x1″. Mounts easily to top flange of conveyor frame.
Applications– Available for gravity or powered conveyors with 1″ or 1-1/2″ wide channel flanges.
Angle guards– 12 gauge galvanized steel.
ADJUSTABLE CHANNEL
Aluminum or steel.  Use with powered and gravity conveyors.  5/8″steel rods provide vertical and horizontal adjustment.  Available for straight conveyors, curves and spurs.  Continuous (system type) or standard flared ends available (Specify).
(For Engineering Line Drawings please see catalog pages, above).
ACSI Paint Colors


(Optional colors available at extra cost)